Healthcare Costs in the United States
Healthcare costs in the United States are extraordinarily, outrageously high. But why?
The healthcare sector is one of the largest and fastest growing sectors of the US economy, which means more money for healthcare professionals, corporations and service providers, but more money leaving the pockets of everyday Americans.
I wanted to find out what is contributing to these exorbitant costs, so I embarked to find out.
Below you'll find some highlights from my research on healthcare costs in the United States and what contributes to them.
All Costs by Category
You'll find 5 major categories:
Professional Services (31.4%, $1432)
Inpatient Acute Care (21.9%, $998)
Prescriptions (19.2%, $873)
Outpatient Visits (17.4%, $795)
Outpatient Procedures (10.1%, $460)
This comes out to a total of $4558, or $380 per month.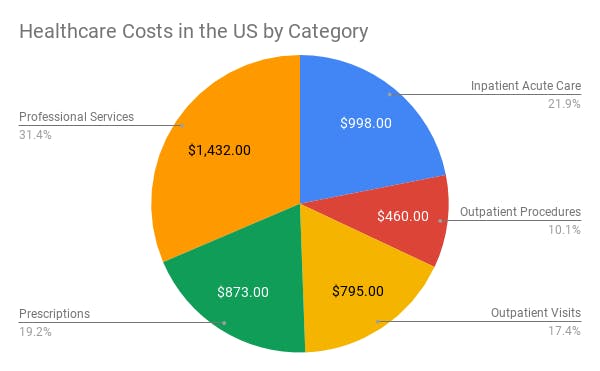 Professional services are the largest, followed by inpatient acute care, prescriptions, outpatient visits, and then outpatient procedures.
Inpatient Acute Care
Within inpatient acute care, the largest cost categories are surgery, medical expenses, and labor delivery. Below that are newborns and mental health & substance abuse. Last is skilled nursing facility, hospice and other outpatient.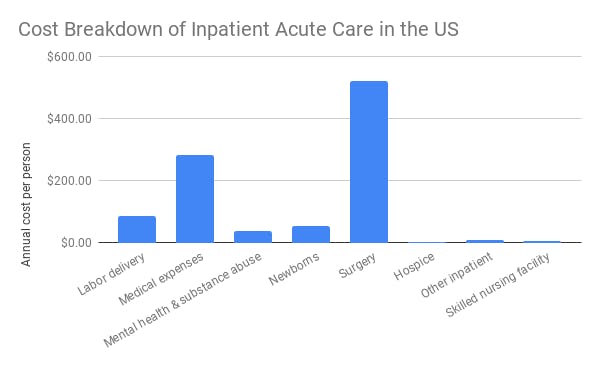 Outpatient Procedures
Within outpatient procedures, radiology is the largest category. Next are ancillary procedures and pathology. And then there's a long tail of other outpatient procedures.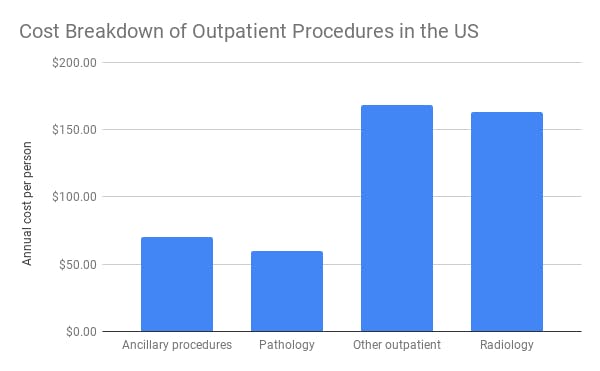 Outpatient Visits
Within outpatient visits, the largest category is outpatient surgery, then emergency room visits, and then observations.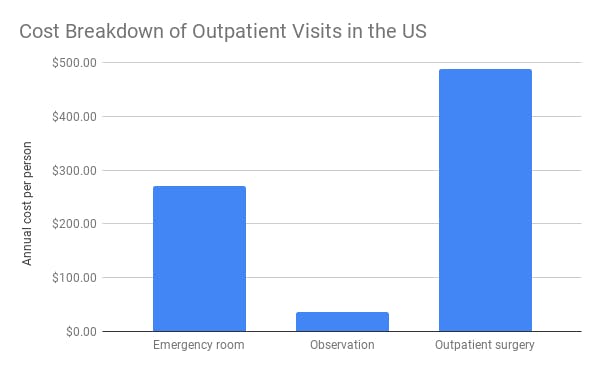 Prescriptions
Within the prescription category, we have hormone prescriptions, central nervous system prescriptions, anti-infective prescriptions, cardiovascular prescriptions, respiratory prescriptions, skin prescriptions, gastrointestinal prescriptions, ear-eyes-nose-and-throat prescriptions, and then last a long tail of other categories.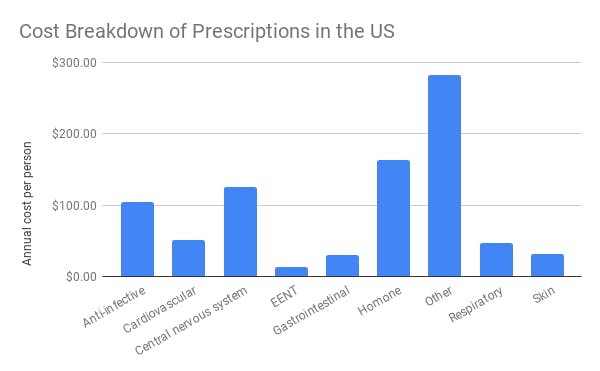 Professional Services
Within the professional services category, we have surgical services, administered drugs, office visit specialists, radiology services, pathology lab professionals, anesthesia, office visit primary care physicians, preventative visit primary care physicians, administration of drugs, preventative care specialists, and then a long tail of other professional services.